Join the FairDoge's 1 Trillion Airdrop
FairDoge is excited to offer an extraordinary chance for everyone to participate in its first-ever Airdrop campaign!
This Airdrop initiative provides a unique opportunity for individuals to win new tokens from a massive prize pool of 1,000,000,000,000 $FairDoge tokens, whether they are avid crypto enthusiasts or online gaming fans. These beautiful tokens can be utilized for 100% RTP games or held as passive income, making this Airdrop a truly exceptional opportunity.
ABOUT FairDoge
FairDoge is a unique community-driven crypto iGaming project that offers popular games with an unparalleled 100% RTP. It is the only provably fair iGaming Meme Platform, with no house edge, making it a one-of-a-kind gaming experience. The FairDoge token provides amazing utility, allowing players to use it to play various in-house games, including Crash, Plinko, Mines, CoinFlip, Dice, Hi/Lo, and more.
The platform aims to simplify trading and gaming on multiple chains through a single ÐApp, and its goal is to reach at least 100,000 token holders in the shortest possible time. Additionally, FairDoge features a provably fair system that generates unique outcomes for every bet, ensuring fairness and transparency.
Furthermore, the platform offers a generous 5% reflection tax on each transaction, distributed proportionately to every token holder, to incentivize community support and increase value for all.

 
How to join the FairDoge
Airdrop?
Requirements to earn free crypto coins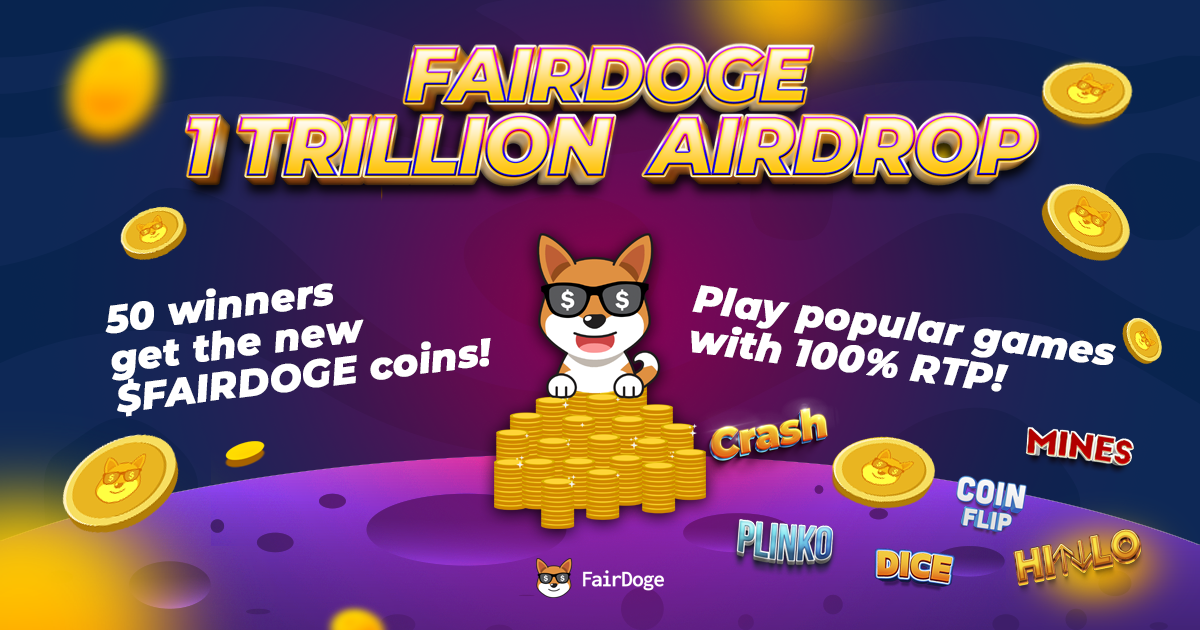 Native blockchain
Step-by-Step Guide "FairDoge's 1 Trillion Airdrop"
▪️ 25 lucky winners will be chosen at random to receive 10 billion $FairDoge tokens each.
▪️ Additionally, the Top 25 referrers will be eligible to receive up to 200 billion $FairDoge tokens, as outlined below:
● 1st place: 200 billion $FairDoge
● 2nd–3rd places: 100 billion $FairDoge
● 4th–5th places: 50 billion $FairDoge
● 6th–10th places: 20 billion $FairDoge
● 11th–25th places: 10 billion $FairDoge
When using decentralized applications (ÐApps), it's critical to remember that YOU are responsible for the security of your digital assets!
Disclaimer: This content is not intended to be financial advice. Investors should take the time to research any given product before they deposit or invest their funds. 
Estimated value
N/A
Additional ICO information
Previous Post
Invest In Solana, Stepn, and Avorak AI To Become Wealthy In 2023
Next Post
Is USDC Going To "Zero" ? Major Shareholders Selling Off USDC Could Mean Total Value Drop to Zero, Says CryptoQuant Founder